Winsteel Group Limited provides Premium Connection from TPCO. We have built a long-term and reliable business relationship with TPCO.
Brief Introduction of TPCO
Firstly, Tianjin Pipe Corporation (TPCO) is one of the global leading seamless steel pipe manufacturers. It located in China. Its core business is to manufacture the seamless steel pipe. That attains to the advanced international standards. And to serve the global energy, machinery and other industries. Secondly, TPCO has 10 overseas companies and offices spread all over America. And Europe, Asia, Africa, and Oceania. They always ready to provide high-quality products and services to customers worldwide.
Thirdly, TPCO R&D center has national level CNAS approved labs. Meanwhile, equipped with world-leading test facilities and full-scale testing means. And evaluation equipment which can simulate all kinds of critical tubular application conditions. Including connection evaluation test ISO 13679/API 5C5 CAL IV and ISO 12835. which to compliance with TPCO can conduct high-level quantity control to the production process. And further, final products, make sure they satisfy API, ASME, ASTM. And also other standards or special requirements from customers. 
Premium Connection from TPCO
Until now TP series premium connections already developed into dozen kinds of connections. For example, size range covered from 1.9in. to 26in. Structure type including typical gas-tight T&C, near flush T&C, upset semi flush integral, full flush integral. And semi-premium connections. Applicable material grade including all API grades, H2S, CO2 corrosion grades, high collapse grades. In other words, other material suitable for special and serve oilfield environments.
Certainly, As of now, a dozen premium connections in the TP series already owned a whole process system. Including product design, FEA analysis, evaluation test, threading process control, inspection method and oilfield services. Ofcourse can provide rapid response to market demands.
Types of TPCO Premium Connection
Connection Test Facilities of Premium Connection from TPCO
Firstly, In-house full-scale pipe properties evolution system. Inside/outside pressure, gas-tight test, full stretch, burst testing, etc.
Secondly, Large-scale comprehensive joint test equipment. for four-quadrant composite loading testing according to ISO 13679/API 5C5.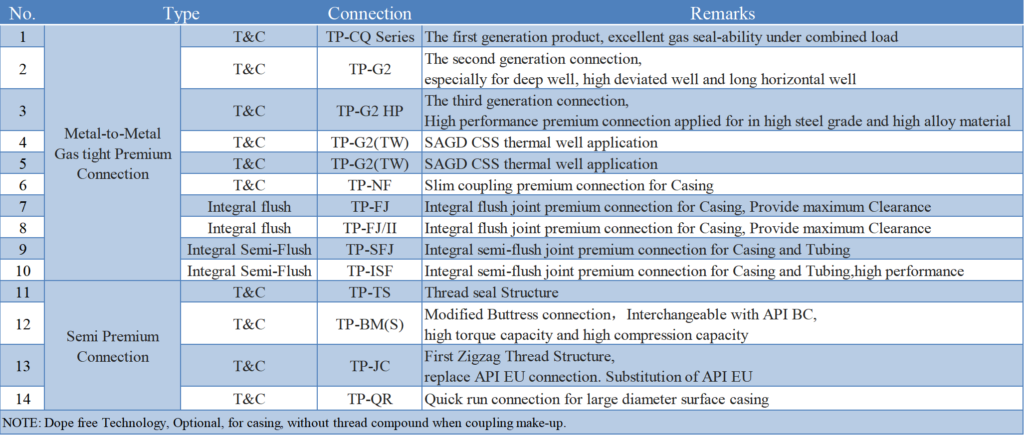 For further information, email us at [email protected]. We will provide our perfect goods at a better price and shorten delivery time.
Related Products:
Casing & Tubing
Line Pipe and Processing