Winsteel Group supplies Premium Connection TP-QR. These products from TPCO. We have built a long-term and reliable relationship with TPCO.
Size Range of Premium Connection TP-QR
13-3/8"~20"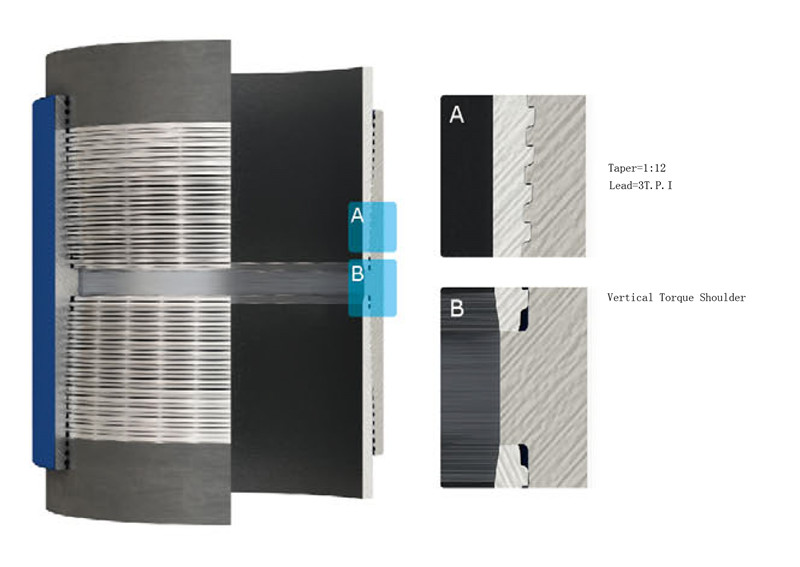 Advantage of Premium Connection TP-QR
Firstly, 3T.P.I coarse thread enable fast make-up without cross-thread
Secondly, Torque shoulder provides accurate power-tight make-up
Thirdly, Internal flush
Description of Premium Connection TP-QR
Threaded Connection
Coarse thread form with a taper of 1:12 and a lead of 3T.P.I, enables high connection strength, fast and easy running without cross-threading.
Torque Shoulder
The torque shoulder provides accurate power tight make-up, which also enables connection to withstand higher compression load.
Internal Profile
The streamlined internal profile minimizes turbulence and energy loss due to high-velocity gas flows.
Coupling Design
Because the coupling covers the vanishing threads therefore the connection tensile efficiency is maximized.
Low-Stress Design
The lower stress design makes the connections reliable in corrosive conditions. Meanwhile, Winsteel Group Premium Threading provides API and premium threading services for the oil and gas market. Located in a stand-alone facility with a specific ISO 9001:2015 certification, we are committed to delivering results to our partners conforming to the highest quality standards.
Goal of Our Company
Winsteel's main point is to ensure that our customers are able to deliver their complete solutions to the end-user on time and on budget. Our objective is to make the subcontracting process and smooth and efficient as possible giving you one less thing to worry about. Service, integrity, and minute attention to detail are what sets us apart from our competition.
So to provide service in tough application surroundings, Winsteel Group Limited supplies optimal performance and premium connections, which are widely used by our customers in South-East, South America, and Africa. Our premium connections can greatly improve the usage span life and save costs for the end-user.
Related Products
That is to say, there are many types of premium connection mainly for good sealing performance. Resistant to high torque and damage repairing etc. We establish strategic partner with many famous mills. Such as Baosteel, TPCO, valin and so on who through the international certification .
In short, we can supply many kinds of application connections. Including threaded and coupled connection. Flush and semi-flush joint connection without coulple. For example TPCQ, BG-GJ, VAM series, Tenaris series, Hydrill series, JFE series, and their equivalent connections.