Winsteel Group Limited supplies seamless pipes for power generation. And we have experts staff to help with material selection and specifications. To ensure that you get exactly what you need for your unique application. Whether nuclear instrumentation tubing or a steam boiler.
Product Standard of Seamless pipes for Power Generation
Firstly, GB——GB 3087,GB 5310,GB 9948,GB 13296,GB 24512
Secondly, ASME——ASME SA-335M/ASTM A335, ASME SA-106/ASTM A106, ASME SA-210M/ASTM A210,ASME SA-213M/ASTM A213, ASME SA-192M/ASTM A192, ASME SA-209M/ASTM A209
Thirdly, DIN——DIN 17175
Moreover, EN——EN 10216-2
Further, JIS——JIS G3461,JIS G3462,JIS G3463
We are confident that our boiler steel tubes. And pipes will fulfill your expectations in every aspect. Such as quality, performance, and access to service net-works across various countries.
Applications of Seamless pipes for Power Generation
Feedwater Heaters
Condensers
Boiler Tubing
BOP Exchangers
Low and High-Pressure Heat Exchangers
Flue Gas Handling Systems: Secondary Heat Exchangers in High-Efficiency Furnaces
Nuclear Instrumentation
Inlet Chillers
Moisture Separator Reheaters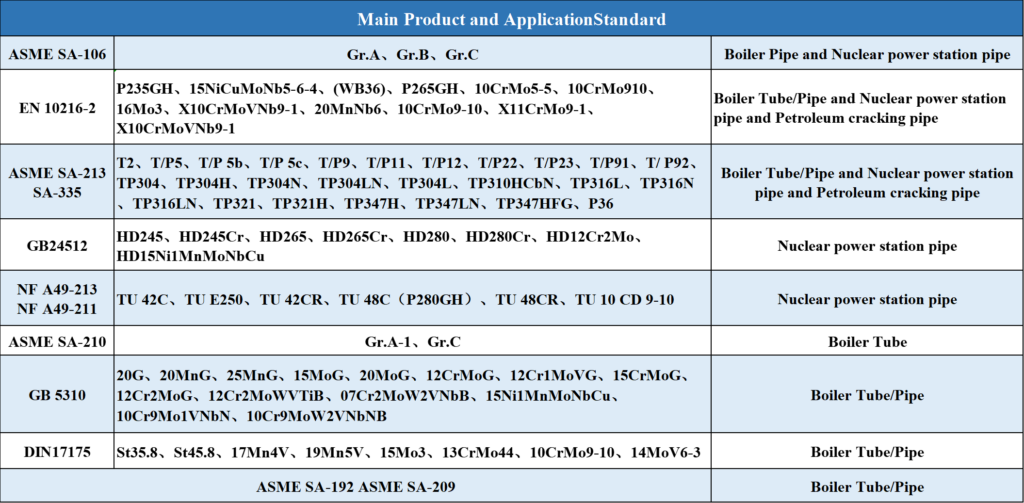 Seamless Steel Tubes and Pipes for Boilers
Certainly, We have been manufacturing boiler steel tubes and pipes used in all fields. Mainly power generation boilers, up to the present day. Ever since we first started manufacturing seamless steel tubes for boilers for the first time.
Steel tubes and pipes, use to respond to these situations. Have been a demand to maintain both high quality and high performance. There has also emerged a need for various steel tubes and pipes such as economic steel tubes and specially-shaped steel tubes.
Boiler tubes and pipes require extremely superior quality and a variety of steel grades and dimensions suited to usage situations. In other words, in line with diversifying needs, we are developing new materials and products. And are conducting a wide variety of research and development, including manufacturing process research.
1. Integrated production system
Our boiler tubes and pipes consistently controlled. Not only from steel-making to tube and pipe-making. In order to ensure the manufacturing of all steel grades. As well as to assure uniform and stable quality, through strict quality control during each process.
Particularly, steel-making processes, from the component mixture to final heat treatment. Undergo optimum quality design regarding boiler steel tubes and pipes. By putting years of experience and high engineering process to full use. So that products can endure long usage periods of one or two decades.
In order to bring quality design into shape. Meanwhile, A new refining method in steel-making introduced. And various manufacturing processes selected according to dimensions. Also to material properties, and internal and external surface conditions. Therefore, seamless steel tubes and pipes hot manufactured using. The plug mill-rolling process, mandrel mill-rolling process, extrusion process, and push bench process.
These hot manufactured tubes cold finished using cold-drawing and cold-rolling processes that fit the applications and thermal treatments.
2. Quality assurance system
Boiler tubes and pipes strongly demanded in order to satisfy especially strict usage conditions. Along with operational reliability. We conduct strict quality control in all processes. From steel-making to tube and pipe-making. And we have established the following quality assurance system.
Firstly, Independence of the quality assurance department
The quality assurance department is independent from the manufacturing department. And has primary authority and responsibility concerning quality in order to take charge of ensuring such quality.
Secondly, Standardization of tasks
Various tasks related to manufacturing. And quality standardize and document for unification.
Thirdly, Adoption of a inspector qualification system
All inspections engaged in work affecting quality have received strict training. And have passed a qualification test.
Further, Full adoption of nondestructive tests
Various required tests and inspections conducted according to applications. And nondestructive tests applied to all products in the final inspection.
Supply Range of Seamless pipes for Power Generation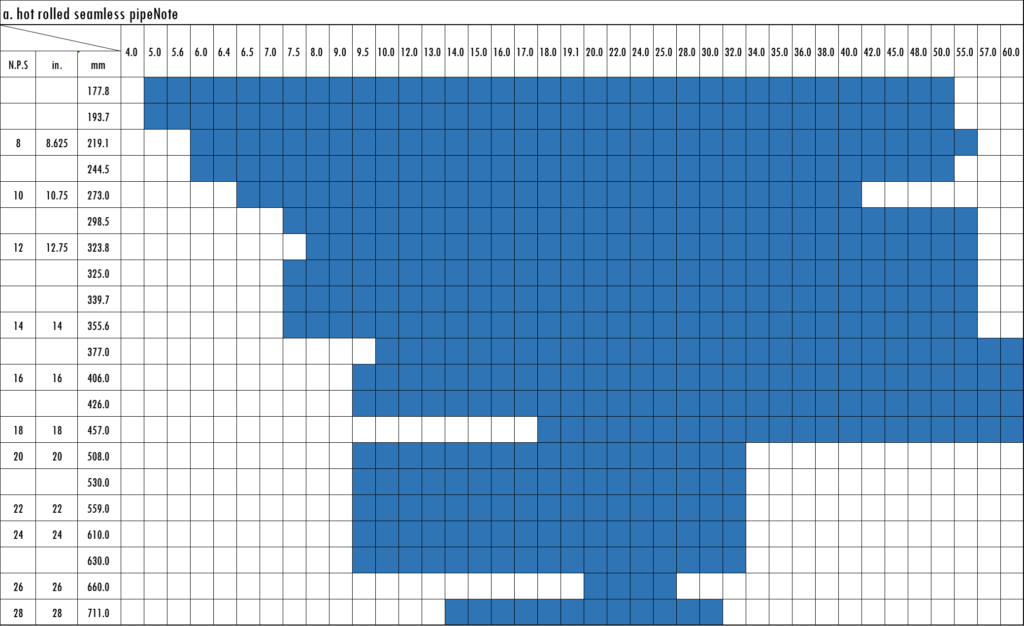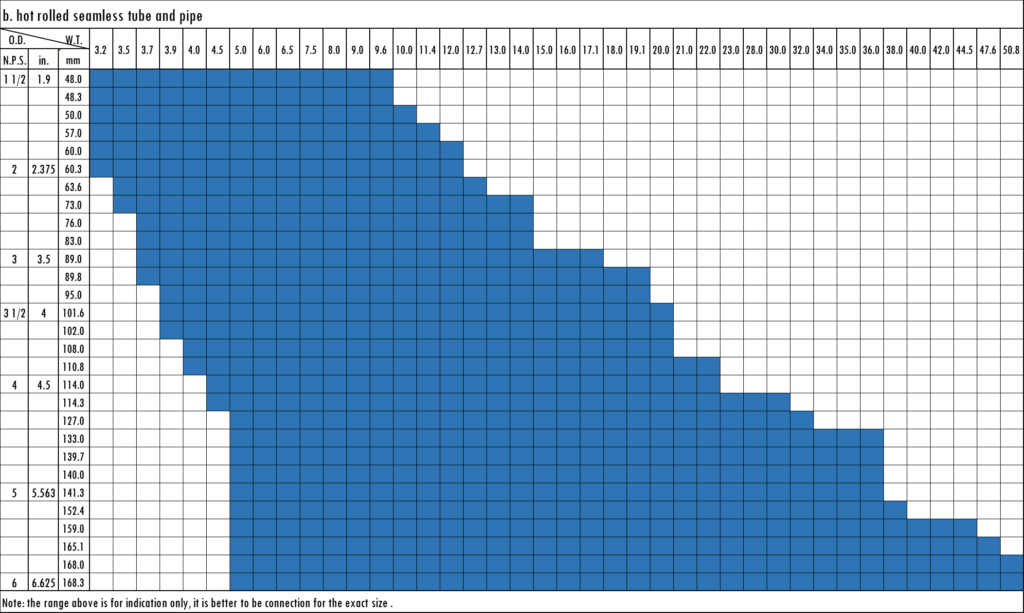 Our seamless pipes for power generation used the world over. Embodying various characteristic products through distinguished engineering process. And abundant experience. And they have earned a high reputation and trust not only in domestic but also overseas.
The demand for electricity around the world is increasing. And the market for power plant components is becoming increasingly competitive. With some of the most reliable tubing in the market. We can give you that competitive edge to stand out. For decades, we have been at the forefront of providing quality tubing for the power generation industry. And to the world's premier equipment suppliers.

To fully meet these requirements, our tubes and pipes have emerged from a secure system through years of experience and foremost engineering process, as a backdrop. In short, we manufactured based on an integrated production system. And on strict quality design and quality control, ranging from raw materials to final products.
Related Products:
For Line Pipe and Processing