Winsteel Group supplies Premium Connection TP-TS. These products from TPCO. We have built a long-term and reliable relationship with TPCO.
Thread form accuracy is important if two connections are to make-up properly. Using a Thread Profile Gage is a quick way to check your threads for proper form and pitch.
Thread form is defined as its profile in an axial plane for a length of one pitch. Simply place the correct form into the threads and by shining a light behind the profile, it's possible to detect any signs or symptoms of a chipped insert.
A profile template that stands too far out of the threads or allows excess light to shine through can be an indication of lead error. Sweeping the profile template along the helix of the threads helps find burrs and debris. Profile gages can also be used to detect steps, flat crested threads, stretched threads, wide first threads, or rolled over threads.
Verifying thread form is a highly recommended practice industry wide for both straight and tapered thread manufacturers.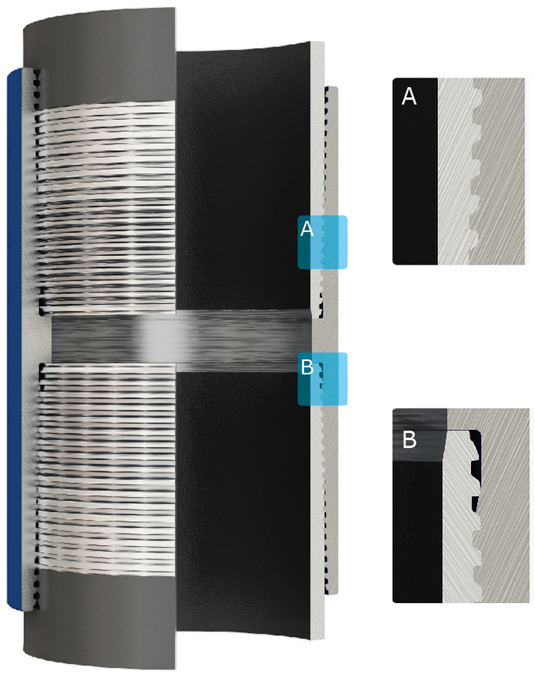 Size range of Premium Connection TP-TS
TP-TS 4-1/2"~10-3/4"
Advantage of Premium Connection TP-TS
Thread sealing provides excellent gas-tight sealing by using
unconventional sealing system
Easy running
Excellent galling resistance
Easy repair
Description of Premium Connection TP-TS
TP-TS Threaded Connection
The designed thread is with a taper of 1:16 and a lead of 4 TPI, enables high connection strength, fast and easy running, which also minimizes thread galling and avoids the trapping of a compound inside the threads.
TP-TS Seal System
Special thread seal provides excellent gas-tight seal-ability as Metal-to-Metal seal. The seal system is on certain threads with a long contact surface. It can be increased with applied internal pressure or external pressure. The seal integrity remains constant after repeated make-ups and break-outs. Optimized thread geometry minimizes the risk of galling.
Torque Shoulder of TP-TS
The torque shoulder provides accurate power-tight make-up. The large shoulder dimension enables the connection to withstand high torque.
TP-TS Internal Profile
The streamlined internal profile minimizes turbulence and energy loss due to high-velocity gas flows.
Coupling Design – TP-TS
Joint efficiency is more than 100% and the coupling critical section is greater than the pipe body section. Because the coupling covers the vanishing threads therefore the connection tensile efficiency is maximized.
TP-TS Lower Stress Design
The lower stress design makes the connections reliable in corrosive conditions.
Why us?
AA level customs broker, Faster through
20 years of experience in the freight forwarding company
Delivery within 20 days
Fast delivery
To provide service in tough application surroundings, Winsteel Group Limited supplies optimal performance and premium connections, which are widely used by our customers in South-East, South America, and Africa. Our premium connections can greatly improve the usage span life and save costs for the end-user.
Related Products: