Winsteel Group Limited, one of the leading Seamless steel pipes for mechanical engineering distributor from China. We supply tubes for mechanical engineering, parts of machines, and general use are delivered according to ASTMA519 and ASTM A53. Carbon seamless mechanical engineering tube sizes according to ASME and ASTM standards.
Sizes Scope of Seamless Pipes for Mechanical Engineering
Outside Diameter (O.D.) : 2 1/2 inch – 28 inch
Wall Thickness (W.T.): 6.0 mm – 65.0 mm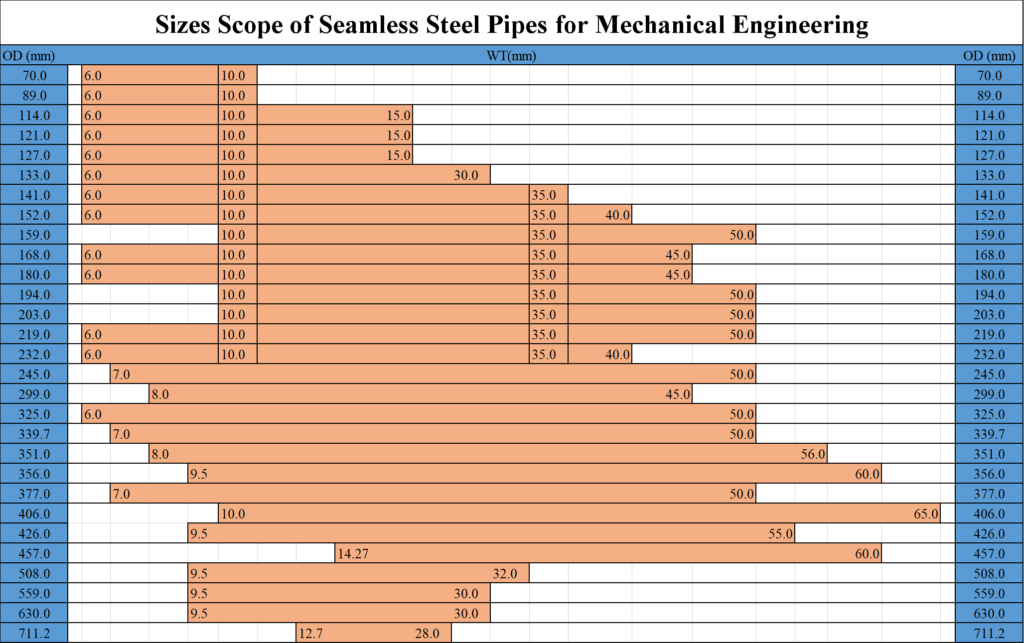 Means of Pipe Production
Hot rolling or cold forming depends upon the standards. Tube dimensions and the agreement when ordering the tubes. The tube tolerances meet the appropriate standards and requirements.
Chemical Composition and Mechanical Properties of Steels acc. to ASTM A 519

Steel Grades for Tubes Intended for Mechanical Engineering include as list below. And you could see the Typical Tensile Properties of them.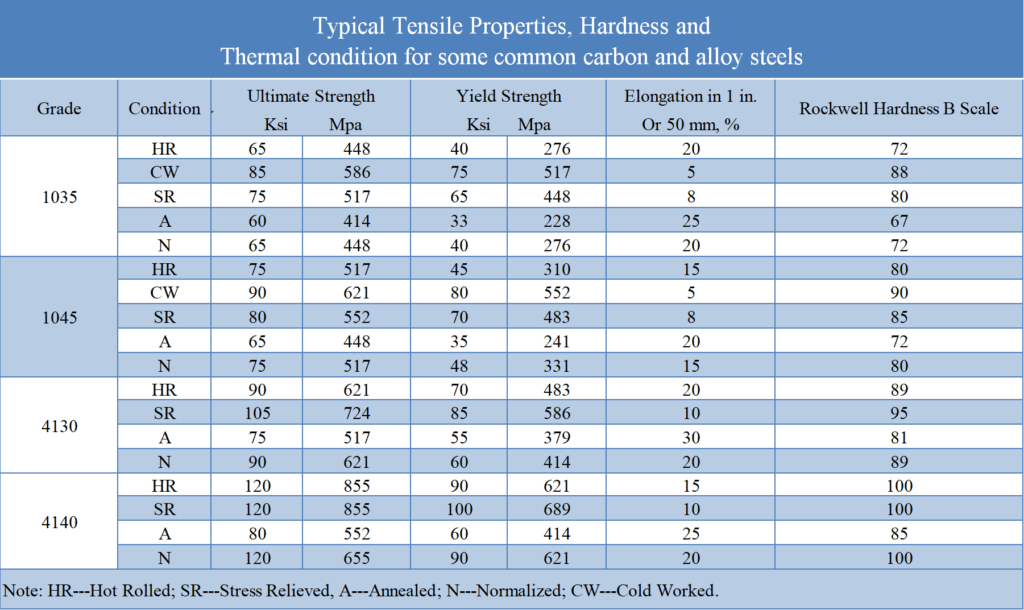 Tube Lengths of Seamless Pipes for Mechanical Engineering
Usually, the tubes supplied in the production length (5 to 6 meters). A precise length may supply upon request.
Marking of Tubes and Tube Bundles
(a) without marking,
(b) marked with colored stripes on the tubes (tube bundles),
(c) marked with spray either by a white or black color using InkJet,
(d) marked by stamping the data (this applies to OD>22mm and WT>2.3mm).
Bundles of tubes marked either with one or more labels with the required data.
Packaging of tubes for mechanical engineering and machine components
(a) tubes bound with a steel band
(b) tubes wrapped in plastic sheets, burlap,
(c) tubes in wooden crates.
Tubes supplied in packages with a circular or hexagonal outline with a weight of 300 to 3 500 kilograms. The tubes bounded with a steel band. It is possible to arrange for tubes to wrapped in plastic sheets, burlap, or in wooden crates.
Tube Straightness
1.5×1000 is the required straightness for the tubes that have a diameter of up to 33.7 mm. And which intended for machine components. For tubes that are going to be mechanically machined the required straightness is 1:1000, i.e.0.001xL.
The Condition, Delivery, and Surface of the Seamless Pipes for Mechanical Engineering
Hot rolled tubes made out of carbon steel do not go through further heat treatment. And their condition is the same as the condition of normally annealed tubes.
After forming, the cold drawn tubes heat treated in such a way that they would meet the requirements of the appropriate standards. As far as the condition of delivery and the mechanical values concerned. The inner and outer surface of the tubes corresponds to the manufacturing means.
Surface Protection of Seamless Pipes For Mechanical Engineering
While ordering, it is necessary to agree upon the method and means of temporarily protecting the surface of the seamless tubes during transportation and storage. The tubes supplied without temporary preservation of the surface or with an agreed-upon preservative.
With a sales staff that has been together for over 10 years and with most of our machinists each having over 10 years at our plant. Our knowledgeable and friendly team experienced in manufacturing and shipping orders on time, with no surprises. We look forward to the opportunity to help you fulfill your steel casing needs.
Related Products:
For Line Pipe and Processing