Winsteel Group Limited supply 1 1/2-inch ERW steel pipe. We are a leading steel pipe supplier in China. We have the LSAW pipe, SSAW pipe, ERW pipe, and Seamless Steel pipe factories. And we provide all kinds of pipes all over the world!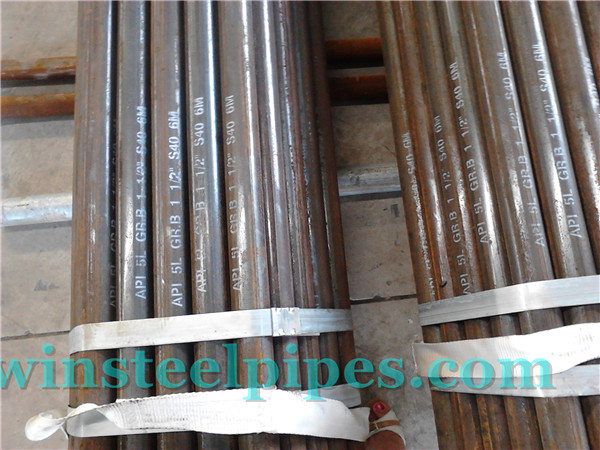 As ERW is suitable for welding, grooving, threading and bending. They are available in all the common sizes, up to 24-inch. It's also available in a variety of combinations: ASTM A53 ERW Type E, Grade B can be purchased in plain end, roll groove, threaded and coupled, or threads only (one end or both).
Description of ERW Supply Range:
First, let us see the normal descriptiong of ERW steel pipes.
Product:
Electric Resistance Welded Steel Pipe
Application:
Used for Oil; Gas; Water transmission;
Machinery Manufacturing;
Size:
O.D.: 21.3 mm ~ 609.6mm (1-inch ~ 24-inch)
W.T.: 1.0 mm ~ 20.0 mm
Length: 5.8M/6.0M/11.8M/12.0M
Standard:
API 5L PSL1 & PSL2; ASTM A53; A500; ASTM A252;
AN/NZS 1163; AN/NZS1074; EN10219-1;
EN10217-1; JIS G3466
Pipe End:
Square ends
(straight cut, saw cut, and torch cut).
Or beveled for welding, beveled.
Surface:
Lightly oiled; Hot dip galvanized;
Electra-galvanized, Black;
Bare, Varnish coating/Anti rust oil;
Protective Coatings (Coal Tar Epoxy,
Fusion Bond Epoxy, 3-layers PE).
Test:
Chemical Component Analysis;
Mechanical Properties (Ultimate tensile strength,
Yield strength, Elongation);
Technical Properties (Flattening Test, Bending Test,
Hardness Test, Impact Test);
Exterior Size Inspection; Hydro-static Test;
NDT TEST ( ET TEST, RT TEST, UT TEST).
Second, we will show you the process of ERW steel pipes.
Production Process for ERW steel pipe:
First step: 1. Uncoiling — 2. Leveling — 3. End cutting — 4. End shearing welding — 5. Supercoil accumulator — 6. Edge cutting — 7. Ultrasonic detection —
Second step: 8. Forming — 9. Electric induction welding — 10. Ultrasonic detection for weld seam — 11. Medium frequency heat treatment — 12. Air cooling — 13. Water cooling — 14. Sizing — 15. Flying cutting — 16. Flush-out — 17. Cropping — 18. Flattening testing — 19. Straightening — 20. End facing and bevelling — 21. Hydrodynamic testing — 22. Ultrasonic detection for weld seam — 23. Ultrasonic detection for pipe end — 24. Visual and dimensions inspection —
Third step: 25.Weighting and measuring — 26. Marking — 27. Coating — 28. Pipe-end protection — 29. Bending — 30. Shipping
Based on the customers requirements we can manufacture ERW pipes and tubes of different size and shape. At the same time, we have a very large production capacity of ERW pipes and tubes.
As can be seen, the ERW pipes and tubes are used in various engineering purposes, fencing, scaffolding, line pipes etc.
Packing of 1 1/2-inch ERW Steel Pipe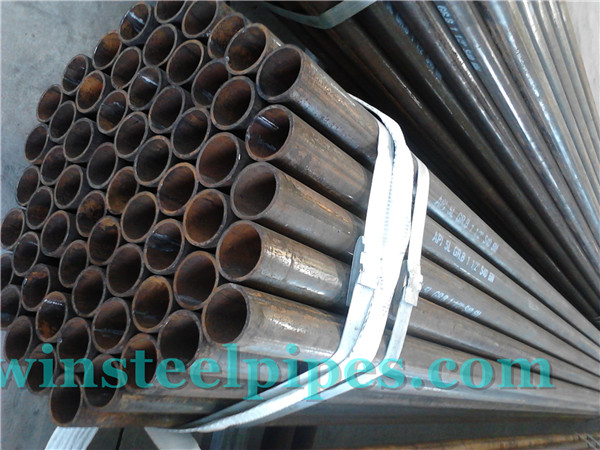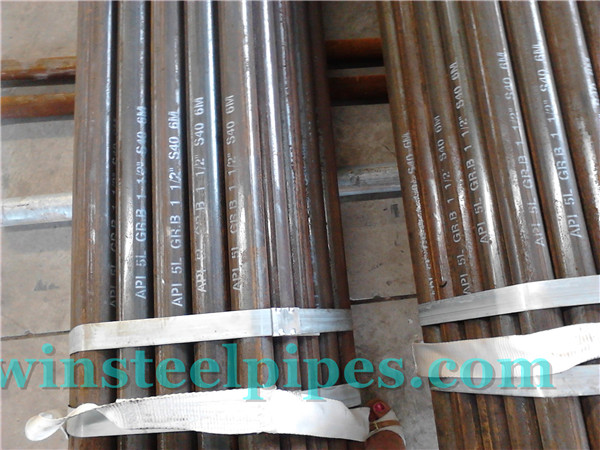 Packing Styles:
Plastic plugs in both ends;
Hexagonal bundles of max. 2,000kg with several steel strips;
Two tags on each bundle;
Wrapped in waterproof paper;
PVC sleeve, and sackcloth with several steel strips, Plastic caps.
Bundled 1 1/2-inch ERW Steel Pipe
In a word, different sizes of pipes have different pieces in one bundle. So please see the photos of 1 1/2-inch ERW steel pipe in Bundle below.
Usually we make small sizes of pipe in bundle like this. It is convient for loading and shiping.
For example, total 61 Pieces ERW steel pipe in one bundle for 1 1/2inch pipes..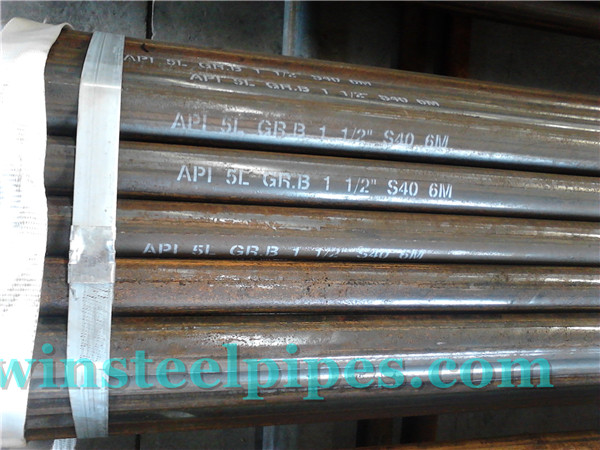 All of our factories have certificates, such ISO 9001, ISO 14001, OHSAS 18001 since 2000. Certificates API 5L PSL 1 & PSL 2, API 5CT, PED, CPR certificates. Also we accept 3-party inspection point by clients, such as SGS, BV and etc.
In short, we are assure all our products in good quality and our best services.