219.1mm SSAW steel pipe is the smallest outside diameter among SSAW pipe.
Winsteel Group Limited is SSAW steel pipe reliable supplier. SSAW pipe refers to the metal pipe with spiral seam that using submerged arc welding process to weld.
We keep enough in stock in the warehouse every month. Besides, we keep a good relationship with every big steel factory in China, so we can guarantee the delivery time and competitive prices for customers.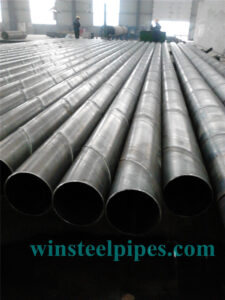 SSAW Steel Pipe's Marking:
219.1MM X 6.0MM X 12M; TOTAL PIECES
API Spec. 5L (PSL 1) Grade B; O.D. 219.10mm X W.T.6.00mm X 12000mm;
(Date of production), API NUMBER (5L-XXXX);
Heat number XXX; Pipe Number: XXX;
OTHER INFORMATION ACCTO THE CONTRACT
SSAW Pipe Supply Range
Outside Diameter: 219.1mm ~ 3040mm
Wall Thickness: 5.0mm ~ 25.4mm
Length: 3.0M ~ 35.0M
Specification & Steel Grade:

API 5L: A, B, X42, X46, X52, X56, X60, X65, X70, X80;
ASTM A53: Gr. A, Gr. B, Gr. C, Gr. D;
ASTM A252: GR 1, GR 2, GR 3
EN10217: P195TR1, P195TR2, P235TR1, P235TR2, P265TR1, P265TR2;
EN10219: S235JRH, S275J0H, S275J2H, S355J0H, S355J2H, S355K2H
BS 4360: Grade 43, Grade 50
JIS
GOST

Pipe End: square ends (straight cut, saw cut, and torch cut). or beveled for welding, beveled,
Surface: Lightly oiled, Hot dip galvanized, Electro galvanized, Black, Bare, Varnish coating/Anti rust oil, Protective Coatings (Coal Tar Epoxy, Fusion Bond Epoxy, 3-layers PE)
Packing: Plastic plugs in both ends, Hexagonal bundles of max. 2,000kg with several steel strips, two tags on each bundle, Wrapped in waterproof paper, PVC sleeve, and sackcloth with several steel strips, Plastic caps.
What is SSAW Steel Pipe?
First, we start from what SSAW Steel Pipe is!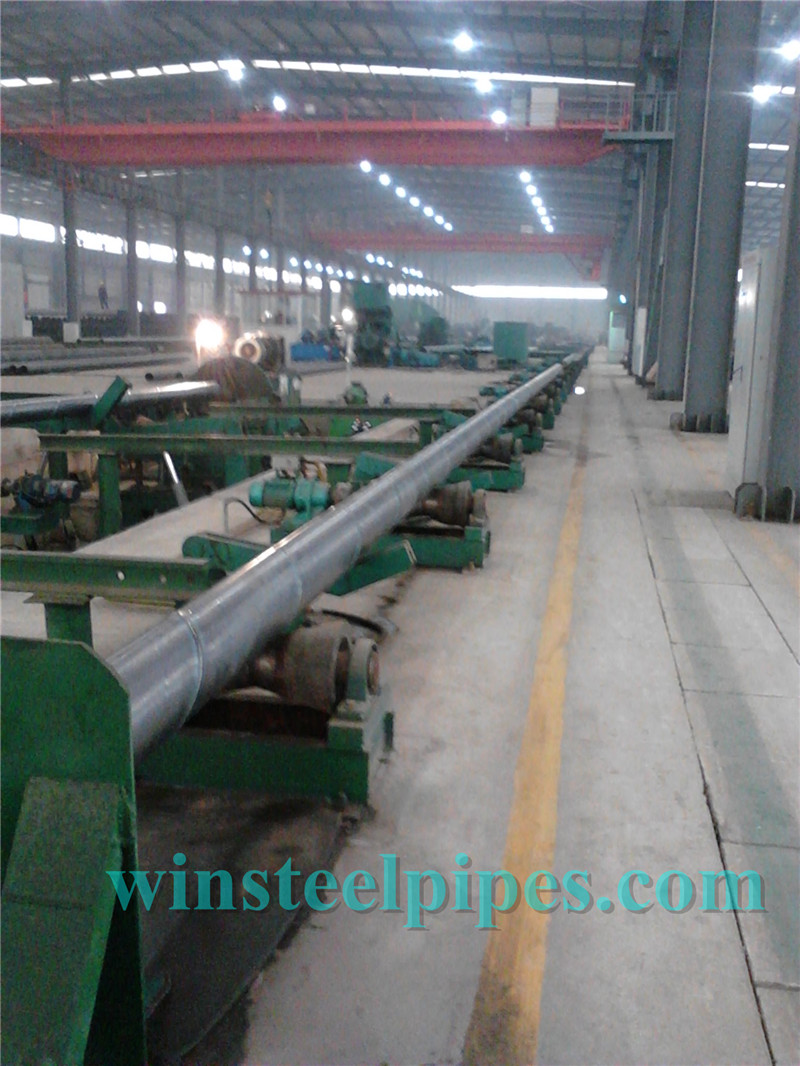 SSAW steel pipe is short for Spiral Submerged- Arc Welded Steel Pipe. It is a type of spirally welded steel pipe produced by using the double-sided submerged arc welding method.
We use narrower plates or hot rolled coils to form Spiral welded steel pipe, which will lowers their production costs significantly.
The spiral welding process permits the production of large-diameter pipes suitable for transporting large volumes of oil and gas.
Traditional SSAW pipes were historically limited to low pressure applications. However, modern SSAW pipes have been used extensively in Russia, Canada, and Asian countries in high pressure gas pipelines.
Applications of SSAW Pipe: 
Second, we should know the application of SSAW Steel Pipe.
Spirally Submerged Arc Welding pipes use in oil, natural gas, water and other flammable & nonflammable liquid conveying and distribution pipelines. At the same time, It can use in structures for construction and other general purposes due to the wide size range.
Our products used in water engineering, petrochemical industry, chemical industry, power industry, agricultural irrigation, urban construction, and spiral submerged steel pipe is one of 20 key products of development.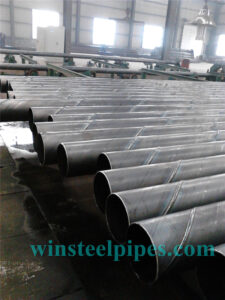 For the transport of liquids: water supply, drainage. And for gas transportation: gas, steam, liquefied petroleum gas. It also use for structural purposes: as piling pipe, for bridges, piers, roads, buildings and other structures tube.
219.1mm SSAW Steel Pipe Weight
Third, when shipping pipes, it is very important to calculate the weight of pipe. Here is the way to know the theoretical weight of carbon steel pipes.
Weight (kg/m) = (219.1mm-W.T.) *W.T.*0.0246615
There is complete production line of SSAW steel pipe in WINSTEEL GROUP. And we are specializing in various kinds of SSAW pipe production and supplying. We are professional SSAW pipe manufacturer and supplier in the international trade. If there is a need, please contact us without hesitation! We will do our best to meet your requirements.