ISO 9001 Certificate (2018-06-15 to 2021-06-14)
What is Written on ISO 9001 Certificate?
Certificate
Quality Management Systems Certificate
Certificate Number.: 00218Q23328R0M
CQM hereby certifies that
Hebei All land Steel Pipe Manufacturing Co., Ltd
United Social Credit: 911309216882033748
Domicile: No. 008. Government Road, Zhifangtou Industry Zone, Cang County, Cangzhou City, Hebei China
Certification adds No. 008. Government Road, Zhifangtou Industry Zone, Cang County, Cangzhou City, Hebei P.R. China (061026)
Has implemented and maintains a Quality Management System which fulfills the requirements of the following standards
GB/T19001-2016/ISO 9001:2015 Quality management systems—Requirements
This certificate is valid to the following product(s)/service:
Production of A1 level straight seam submerged are welding steel pipe
Issued on: 2018-06-15
Effective date: 2018-06-15
Validity Date: 2021-06-14
Registration Number: CQM-13-2012-0025-0001
The validity of the certificate can be checked on www.cnca.gov.cn, Certificate confirmation and CQM website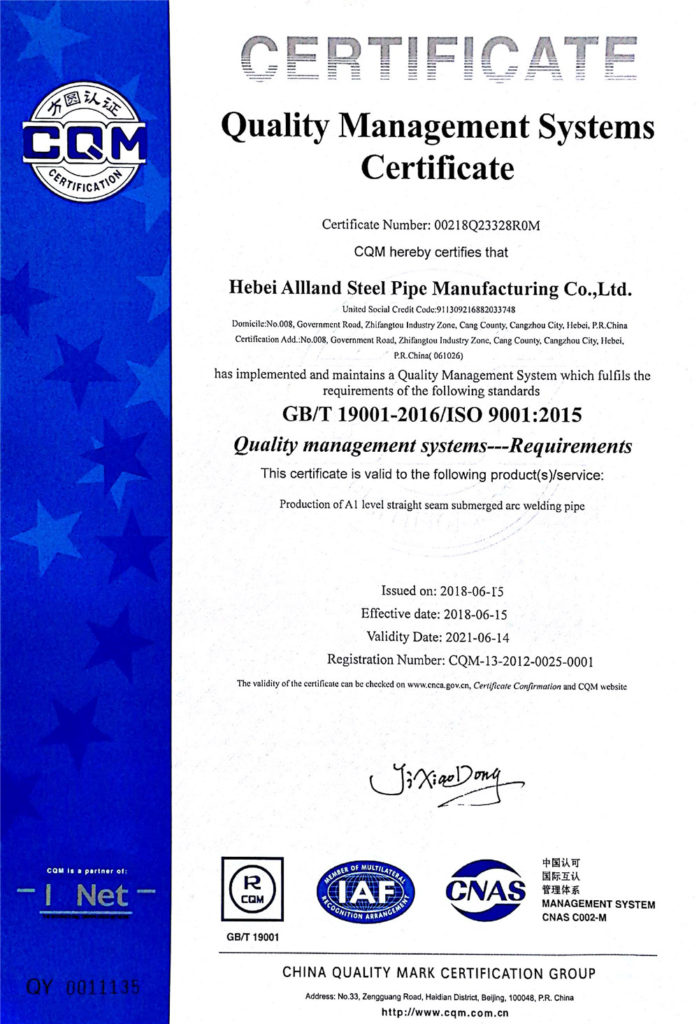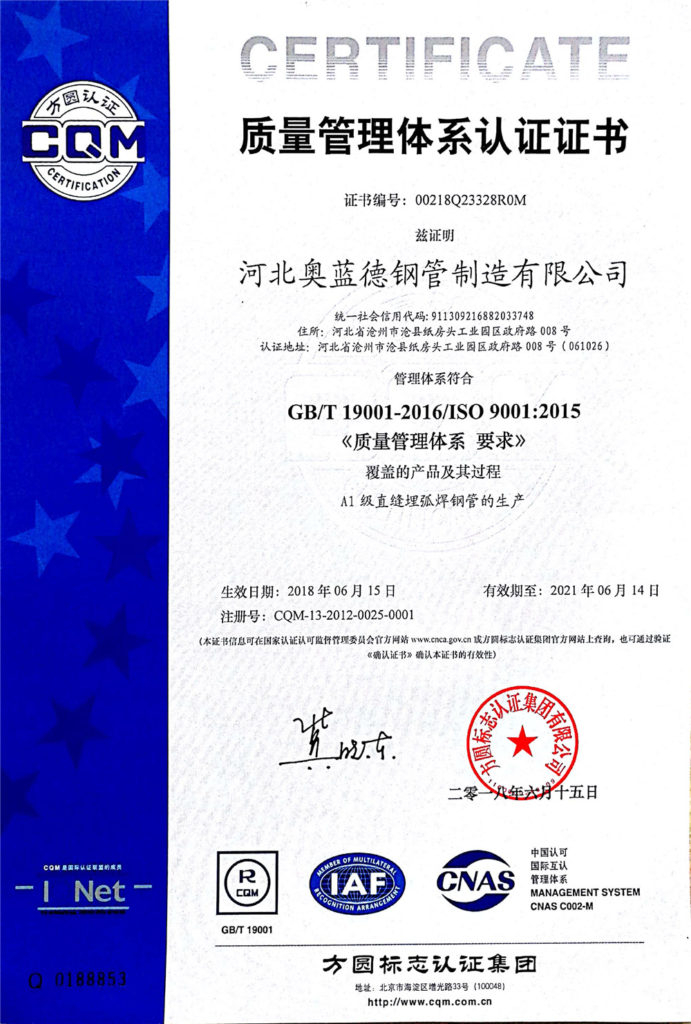 What is the ISO 9001 Certificate?
ISO 9001:2015 is the world's leading Management System Standard. ISO 9001:2015 sets out the criteria for a quality management system. It is the only standard in the family that can be certified to (although this is not a need).
ISO 9001 certificate can used by any organization, large or small. In fact, there are over 1,000,000 companies and organizations in over 170 countries certified to ISO 9001.
ISO 9001 certificate Globally adopted by all industries. Ranging from manufacturers and service companies to companies both large and small. From multi-site multi-national organizations to single location businesses. ISO 9001 has become the most recognized Management System Standard.
These requirements can bring discipline and consistency to an organization's operating processes.
The difference between ISO 9001:2015 and 2008 version.
The key changes include:
1) A stronger focus on risk management and customer satisfaction;
2) More emphasis on leadership and commitment;
3) Fewer prescriptive requirements;
4) More requirements on communication and strategic alignment;
5) The formal introduction of 'interested parties'
The most significant change to ISO 9001:2015 is the Annex SL high-level structure. In ISO 9001:2015, several terms have changed. Using "products and services" in place of "product". A shift to "improvement" as opposed to "continual improvement". And "purchasing" and "outsourcing" will replace with "external provision of products and services".
The new standard tells the identification and needs and expectations about 'interested parties'. There is greater emphasis on the production of desired outputs and process management in general. Risk is another discussed change within the new standard.
What was once referred to 'preventative action' has evolved to need organizations to use risk-based thinking? There is no longer a need for a quality manual. But, it is less prescriptive of documentation procedures. Requirements for documentation of information will be more explicit.
We have got ISO 9001 Certificate for several years. And we are a professional LSAW steel pipe Manufacturer. And we also have API 5L certificate, EN 10219 certificate, and ISO 14001 certificate and OHSAS 18001 certificate and etc.
Want to know more? (Please email me)
Email: hannal123@163.com
My Phone: 0086-015022081646