812.8 mm LSAW Steel Pipe ( 32-inch pipe )
812.8 mm LSAW steel pipe ( 32-inch pipe ) produced by Winsteel. O.D.= 812.8mm; W.T.=9.53mm; Length=12.0m; Pipe Surface: bare/black vanished; Specification: API 5L PSL 1 Grade B;
Marking:
812.8MM X 9.53MM X 12M; TOTAL PIECES
API Spec. 5L (PSL X) Gr.B; O.D.812.8mm X W.T.9.53mm X 12000mm;
(Date of production) , API NUMBER (5L-0826);
Heat number XXX; Pipe Number: XXX;
OTHER INFORMATION ACCTO THE CONTRACT
Winsteel Group is a professional LSAW steel pipe manufacturer with JCOE molding process.
Specification include:
API 5L PSL 1&PSL 2;
EN10219;
EN10217;
ASTM A252;
ASTM A53;
GB/T 9711, and etc.
We have got the certificate of API, EN10219, PED, and ISO 9001 for many years. More than 15 years of export experience is our advantage as a factory.
Brief Introduction of LSAW Pipe
API 5L steel pipe is for oil and gas industries pipelines, developed for different working environments. The steel line pipe material generally in carbon steel and comply with API SPEC 5L specifications.
Applied for petroleum and natural gas industries, oil industries requirements for transportation and are expected working in extreme situations, low and high temperatures, corrosion resistance for corrosive environments, and for sour services in H2S conditions.
LSAW Steel Pipe Grade Feature
Common Class: API 5L Gr.B PSL1, PSL2, Sour Service pipe
Medium: X42, X46, X52
Medium and high: X56
High level: API 5L X60 PSL1, PSL2 LSAW line pipe; API 5L X65 PSL1, PSL2 LSAW line pipe
Premium high: API 5L X70, API 5L X80
Our Supply Range For API 5L LSAW Pipe
LSAW steel pipe: 406.4 mm to 1422.0 mm
Range of Thickness: 6.0 mm to 30.0 mm
Ends Type: Beveled ends, Plain ends
Range of length: 20FT, 40FT or customized
Protection Caps in plastic or iron available
Surface appearances: Natural, Varnished, Black painting, 3PE, FBE, etc
Advantages of LSAW Steel Pipe Are:
(1) without the unwind method, the bottom material indentation, scratch less.
(2) the incorrect facet, slotted, and different easy-to-diameter perimeter management, wonderful fastening quality.
(3) the elimination of flaring primarily doesn't exist residual stress when stress.
(4) as a result of it's a line weld, the weld is brief, very little risk of defects.
(5) when increasing, pipe pure mathematics accuracy is improved greatly facilitate the on-the-scene fastening.
(6) for a straight seam, less impact on the standard of anti-corrosion coating materials.
Major Characteristics of LSAW Pipe
① The pipe internal stress is incredibly little and uniformly distributed when the full- length growth. The corrosion and cracking of the pipe due to stress may be effectively prevented. the applying of fastening on the website is incredibly straightforward thanks to the high dimension precision;
② the within and out of doors fastening is performed when the tack fastening, so the fastening method is incredibly stable with smart weld quality;
③ The NDT is simple to perform on the weld throughout production and field operation as well;
④ The length of the weld is shorter than that of the non-longitudinal seam pipe, that the likelihood of defects prevalence is incredibly low;
⑤ The coverage of the pipe specification is incredibly wide. The pipe may be either in terribly giant diameter with thick wall or in terribly little diameter with a thick wall.
Application of LSAW Pipe
The pipes are primarily used as long-distance transportation pipeline for oil, gas, liquid coal, etc. ashore and offshore. And can also be applied as construction pipes on offshore platform, powerhouse, petrochemistry, and town construction, etc.
812.8 mm LSAW Pipe Shipping In Container
You will see the shipping condition in 40' HQ container in the following picture.
40' HQ Container Size:
2.35M (width) X 2.65M (high) X 12.0M(Length)
For 812.8mm LSAW steel pipe (32-inch pipe ):
Total 8 pieces one container;
Max Metric Ton is 25.0 tons one container.
If the single pipe's weight is higher than 3.125 tons, you should consider reduce one piece of pipe.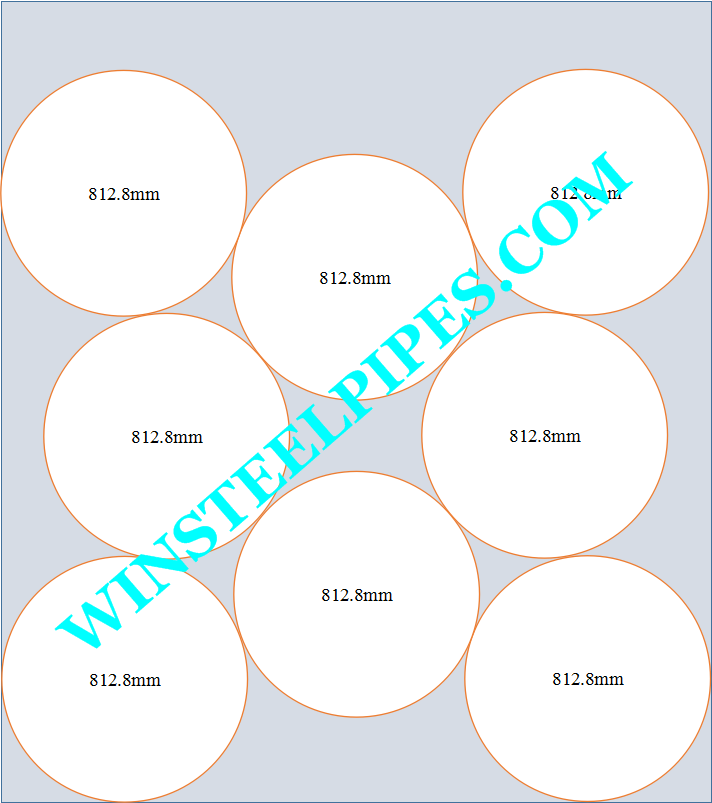 And in the actual procedure of loading, it always has a different size, so we will stuff pipe into containers according to the actual contract.
If you want to learn more about our 812.8 mm LSAW steel pipe, please see it on Youtube.
Related Searches: