EN 10219 Certificate
What is written in this certificate:
Certificate of Conformity of Factory Production Control
This certificate is issued to:
Manufacturer: Hebei All land Steel Pipe Manufacturing Co., Ltd.
Manufacture of cold-formed welded steel pipes
This EN10219 certificate attests that all provisions concerning the assessment and verification of constancy of performance and the performances described in Annex ZA of the standard(s)
EN 10219-1:2006 Cold formed welded structural hollow sections of non-alloy and fine grain steel -General Technical Delivery Conditions. under system 2+ are applied and that the product fulfills all the prescribed requirements set out above.
The attached schedule, of the same date, details the manufacturing location(s), harmonized product standard and product parameters and shall form a part of this certificate.
It will remain valid as long as the test methods and/or factory production control requirements included in the harmonized standard, used to assess the performance of the declared characteristics, do not change, and the product and the manufacturing conditions in the plant are not modified significantly.
EN 10219 Certificate No: 0038/CPR/SHA/6015838/A
  Original Approval: 01 June 2013
  Current Certificate: 01 June 2016
  Expiry Date: 31 May 2019
  LSAW Manufacturing Products: JCOE production line
Standard, Steel Grade and Size :
Standard: EN 10219-1:2006 specification ; EN 10219-2:2006
Steel Grade: S235JRH, S275J0H, S275J2H, S355J0H, S355J2H, S355K2H
Size – Circular: the outside diameter from 406.4 mm to 1422.0 mm
Size – Wall thickness: from 6.0 mm to 30.0 mm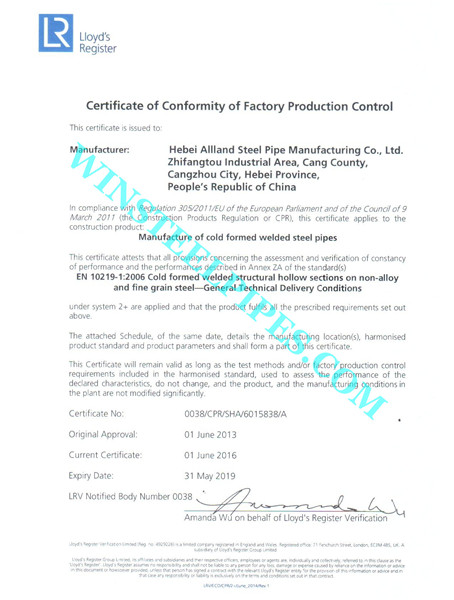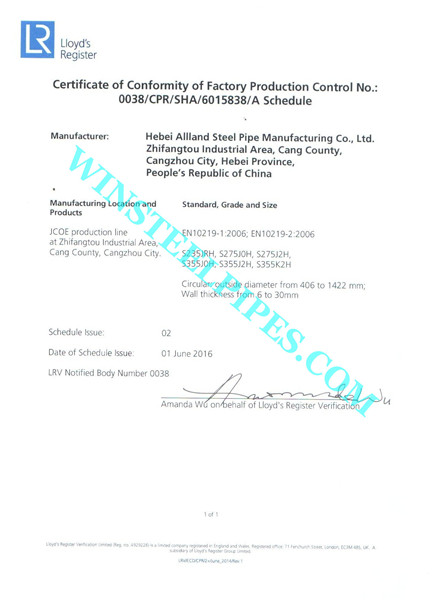 This certificate is according to the EN10219-1:2006 specification (EN 10219 standard). Steel material in EN 10219-1:2006 specification is different from API 5L specification. And we also got an API 5L certificate, ISO 9001 certificate, ISO 14001 certificate, ISO 18001 certificate for decade years.
Winsteel Group is a professional LSAW pipe manufacturer in China. If you want to buy these kinds of pipes or have any questions, please do not feel hesitate to contact me. I will do my best to help you.
Want to know more? (Please email me)
Email: hannal123@163.com
My Phone: 0086-015022081646